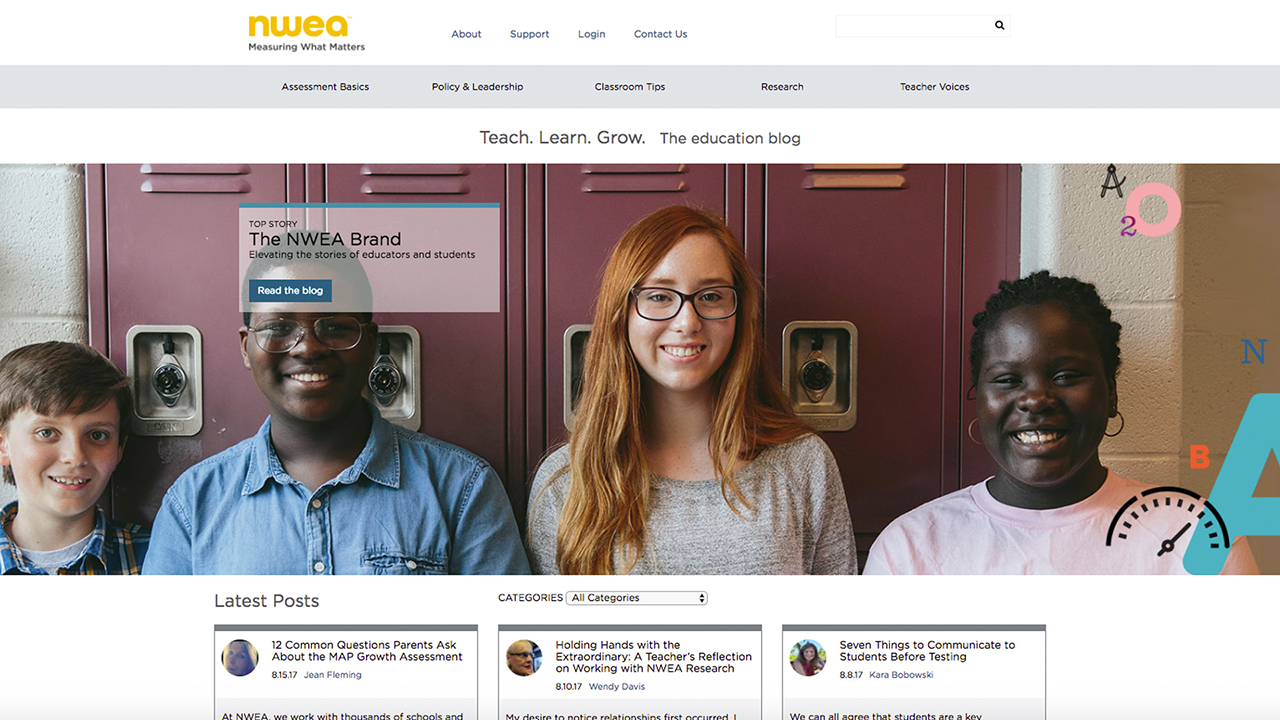 CASE STUDY
NWEA® is a research-based, not-for-profit organization that supports students and educators worldwide by creating assessment solutions that precisely measure growth and proficiency—and provide insights to help tailor instruction.
Client: NWEA
Agency| Design: Clarity-Innovations
Location: Portland, Oregon
Software:  Camtasia, Adobe Photoshop, XD, Illustrator, InDesign and After Effects
Project Link: https://www.nwea.org/
NWEA: WEBSITE REDESIGN & INSTRUCTIONAL VIDEOS
Leading academic assessment organization NWEA approached Clarity-Innovations to help them in a major redesign of their website. They also required instructional and informational videos, as well as print materials teachers could use in the classroom. Much of the work had to be accomplished concurrent with re-brand work in progress without compromising legacy systems and content. As is common in these situations, there were many stakeholders whose needs sometimes seemed at odds with each other or their audience.
The timetable had to be aggressive due to various factors in both the academic and business environments the organization operates in. Ensuring that all accessibility, usability and Universal Design for Learning (UDL) standards were being met across the board was critically important. For example, closed captioning was to be included on all video work and materials delivered to the client which would afford them maximum usage flexibility.
Clarity-Innovations assembled a small core team which worked in close collaboration with the group at NWEA. Tight communication, planning and organization were key components and both organizations meshed beautifully. We relied on Adobe's new product XD, to generate wireframes and workflows which were shared with the client. These also greatly aided the engineering teams when it came to developing and coding the site. Several of us at Clarity worked together on these tasks and it turned out to be fun and productive. I was also able to create several video projects for the client using Adobe After Effects.
Everything was delivered on time and under budget. The project and all its component parts turned out to be a huge success. In the months following roll-out, all KPI's and success metrics (both qualitative and quantitative) were more than achieved. Feedback from the NWEA academic community has been overwhelmingly positive. Clarity Innovations and NWEA continue to work together on various projects and ongoing content creation.
Some of the video work I created can be viewed in various locations on the NWEA website including THIS LINK. Scroll down the page to see these. The short graph animation for Growth Over Time (RIT Scale) has no sound while the two minute MAP Growth Reports video below have both narration and music.